---
Do you feel overwhelmed and stressed by all the things you have to do in your life ?
Time to take back control!
When Helen started using these printable planner pages in her Bullet Journal, she gained:
More control over her journal with customized paged
An easier way to track her schedule, appointments and important dates.
A no-fuss way to keep track on her to-do lists.
Less time and stress worrying about missing appointments or important meetings.
More time to spend on things she loves!
A clearer mind!
These planner pages are designed to help you organize the day to day aspects of your life. The pages come in 2 different sizes:
Letter Sized
6" x 8" Sized
And 6 different color/design choices
And you will receive THEM ALL for just $11!!!!
The smaller size is perfect for your 6" x 8" planner or journal. If you print the pages on shipping labels, you can then just stick the planner sheets into your planner!
Convert your planner into a flexible solution that's customized to YOUR life!
The simple design of these pages will look clean and organized in any planner or journals.
Save your colored printer ink - these pages also look great when printed in black and white!
In each planner pack you will receive the following ten printable pages:
Yearly Calendar Page
Yearly Goals Page
Monthly Calendar Page
Monthly Goals Page
Weekly Planner Page
Weekly Goals & Tasks Page
Daily Planner Page
Yearly Calendar Page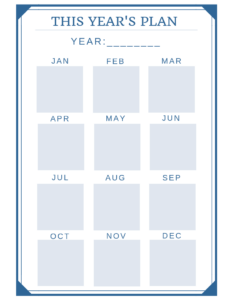 The Yearly Calendar page will give you an overview of your entire year. Each month provides you space to make a note of important dates or reminders. Never miss a birthday or anniversary again!
Yearly Goals Page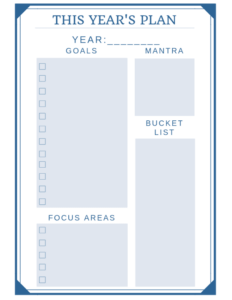 Every year it is important to set goals for ourselves. Monthly, weekly and even daily goal setting are important, but being able to plan long-term and set ourselves on the road to success can only be accomplished with annual goals! The Yearly Goals Page contains the following areas:
Goals
Focus Areas
Mantra
Bucket List
Monthly Calendar Page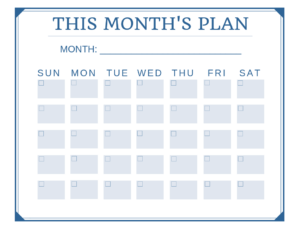 Time to take control of your time and plan ahead! Keep track of everything that you have coming up in your month with this versatile Monthly Calendar Page. The dates are blank, so it can be used for any month you chose. No more having to wait until January for a new monthly planner! Start your new planner, any month of the year! This is the perfect space to record those important dates that you don't want to forget - birthdays, anniversaries... even when your bills are due.
Monthly Goals Page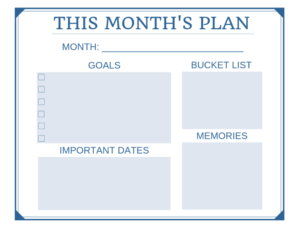 We do better and achieve more when we plan and set ourselves goals. Why wait for the New Year to set resolutions for yourself? You can reset your goals and aspiration every month! The Monthly Goal Page is the perfect place to set yourself goals and challenges for the month ahead. It contains the following sections:
Monthly goals
Important dates
Mantra
Bucket list
Memories
You can use this page every month, once a quarter or just when you need it most!
Weekly Planner Page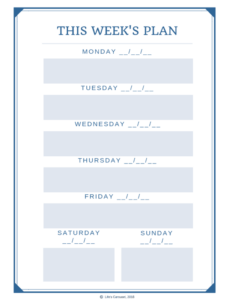 Our weeks can seem to fly by in a blur of meetings, activities, appointments, and tasks. Stay on top of it all with the Weekly Planner Pages. Each page has ample space for each day of the week and weekend. Write down your important appointments, meetings and more. At a glance, you will be able to see what the week has in store for you.
Weekly Goals & Tasks Page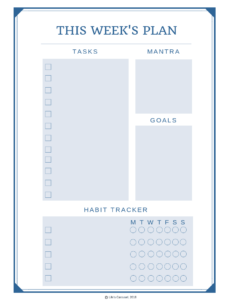 You will not believe how useful you will find this Weekly Goals & Tasks page. Sometimes our lives are just too busy to keep up with a daily to-do list. But we still want to feel organized and set priorities. The Weekly Goals & Tasks page will help you organize and prioritize your tasks and to-do list for the week. It includes sections for:
Tasks
Mantra
Goals
Habit Tracker
Daily Planner Page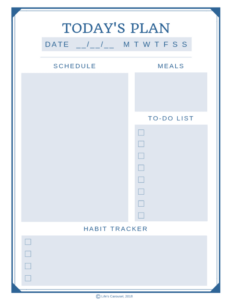 If you really want to take control of your life, then you will want to start planning out your day completely. This Daily Planner Page will help you keep track of your day and manage your time like a rock star! Each page contains the following sections:
Schedule
Meals
Tasks
Habit Tracker
Get ready to increase your productivity and take control!